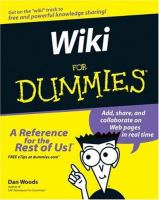 When I first started library school, I was wary of the most famous wiki of them all – Wikipedia. How in the world could it be conceivable to rely on an ever-changing environment of information? I was especially confused by Wikipedia's reliability after hearing late night talk show jokes about how notorious famous figures' pages were slammed with misinformation after scandalous behavior. This whole situation was unfathomable to me, until I read a book called Everything is Miscellaneous by David Weinberger. He presented a unique fact that had not struck me until reading his understanding of the Wikipedia phenomenon. Basically, Weinberger proposes the concept that because anyone and everyone post changes to a page of facts, a certain transparency and truthfulness is developed. For example, say someone would post on Adolf Hitler's wiki page that he was never born; I, as a Jewess whose grandmother's entire family was murdered in the Holocaust, would take offense at this untrue factoid and would change it to the correct and truthful version.
Albeit, according to Meredith Farkas in her book Social Software in Libraries, the only possible way to rely on the wiki's integrity would be to implement certain 'safety' measures. For instance, creating an account before posting a change onto the wiki assists in keeping out the spammers. Additionally, the success of the wiki is dependent on the dedication of the wiki users to the site, to maintain its veracity. In Wikipedia, though pages may be changed temporarily for the bad, many of the online community will delete and change the page into a more truthful one subsequently. While I was perusing the different wiki examples, I realized that another extremely vital element to a successful wiki is the organization of the page. Without a simple template, the wiki becomes a jumble of information that becomes irrelevant to the user. I found the RocWiki at http://rocwiki.org/ is a great example of a successfully organized wiki, versus Burbank Public Library's AskWiki at http://burbank.wikidot.com/.
As an additional point, as I was reading Farkas's book on social software, I realized that the new Online Public Access Catalog offered by the Los Angeles Public Library system, is indeed a type of library wiki. This OPAC is a newer acquisition that I absolutely love on many levels. Two of the new features are the tagging feature and review rating process. As long as you are signed into the system, which requires a LAPL account, you can tag and review any book you would like. Slowly but surely, I've noticed the tagging feature growing. However, the review feature has not been utilized enough, most likely due to lack of advertising. Either way, as a patron, it's exciting to have the ability to contribute and be a part of the LAPL's OPAC.
Farkas, M. G. (2007). Social software in libraries: Building collaboration, communication, and community online. Medford, NJ: Information Today.
Weinberger, D. (2007). Everything is miscellaneous. New York : Times Books.